Having pondered the total lack of conviction in the London scenes, especially the truncated Dead London sequence, it occurs to me that with a different approach, Hines could have made these scenes vastly better without spending huge amounts of money (or even, probably, any more than he actually did spend).
Namely, he could have used Photoshopped (or equivalent) images instead of those dreadful cardboardish CGI monstrosities. He already used loads of green/bluescreen, so why not use it with photographic backgrounds? A few minutes of Googling would have turned up photos of Victorian London, which could have been hand-tinted using Photoshop. Or if he needed higher res images, he could have ordered CD-Roms of photos of 'old London' – even
his
budget should have stretched to that.
Images of ruins in London could have been created in two ways. One, he could have simply used photographs of London during the Blitz – after all, many of the buildings damaged and destroyed by bombs were Victorian or older – as here (clearly he'd have to use images without people in them, or obviously post-Victorian artefacts, but you get my point):
Two, for buildings not damaged, he could have painted the damage in using Photoshop, as was done for the following (which is not by me):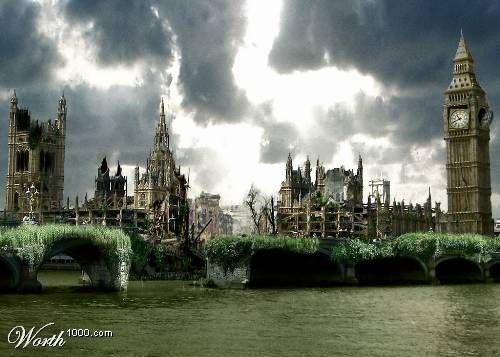 Large:
http://www.worth1000.com/entries/116500/116746MSur.jpg
)
Had he used techniques like these, not only would the London scenes have been ten times better, but the time he'd have saved by not having to construct that appalling CGI London would have been better spent on, say, the Thunder Child scene.
Of course, none of this would have helped with the poor script, dreadful acting, and appalling editing. But at least it would have been less unendurable from a visual perspective.